AC Repair Westminster, CA

In Westminster, CA, it's important to find a reliable air conditioning repair technician. With the hot summers here in SoCal, having an AC unit that works properly is essential for staying cool and comfortable. As an AC company with many years of experience in the area, we're here to help make sure your AC unit is running smoothly all summer long. At Infinity,  we take pride in taking care of our customers' needs quickly and efficiently. We understand how frustrating it can be when you're stuck without air conditioning on a hot day! That's why we offer same-day repairs and 24/7 emergency service – so you know someone will always be there to help whenever you need it most. From maintenance checks and tune-ups to complete system replacements, no job is too big or small for us!
As a leading AC repair technician in Orange County, CA we understand how important it is to keep your home comfortable during hot summer months. At Service Infinity HVAC we strive to offer the best services for all of our clients so that they can relax and enjoy their air conditioning system in comfort. From AC repairs in Westminster to tune-ups across Orange County, our team has the experience and knowledge needed to get the job done right! Our technicians are highly trained and certified, with years of expertise in providing top quality service for both commercial and residential customers. We guarantee quick turnaround times on all AC repair jobs without compromising on workmanship or safety standards. Plus, we only use genuine parts from trusted manufacturers which ensures lasting performance for your unit over time. No matter what type of issue you're facing with your air conditioning system – whether it's a faulty compressor, blocked airflow, water leaks or anything else – you can count on us to have it fixed up quickly. With same day appointments available and competitive pricing options there's no need to wait any longer; give us a call today and let's get started!
Air Conditioning Repair & Furnace Repair For Orange County Residents
As an AC repair specialist in Orange County, Infinity is here to help. From the beach cities of Seal Beach and Laguna Niguel, to inland communities like Brea and Placentia, we provide top-notch furnace and air conditioning services for both residential and commercial locations. And with our 24/7 emergency service, you can rest assured that your comfort is taken care of no matter what time it is. Our team utilizes state-of-the-art technology such as infrared cameras to inspect ducts and check for quality assurance on repairs. We also use advanced diagnostic tools to quickly pinpoint any issues so they can be resolved efficiently right away. Plus all of our technicians are EPA certified and licensed by the State of California—so you can trust that your job will be done right the first time! We believe in providing outstanding customer service while helping create a comfortable atmosphere inside homes or businesses throughout Orange County. That's why we strive to make sure every single one of our customers feel part of the Infinity family from their very first call. So if you're looking for reliable AC repair services in this area, give us a call today!
Air Conditioning and Heating Tune-Ups For Homes & Businesses

It's no secret that the temperatures in Orange County can be brutal during summer months. Having a reliable, efficient air conditioning system for your home or business is key to keeping cool and comfortable all season long. That's why regular tune-ups of your AC unit are so important! Here at our Orange County AC repair shop, we specialize in providing top-notch maintenance services – so you know you're getting quality workmanship from experienced technicians who understand just how critical proper cooling is to life here in California. Our comprehensive tune-up procedures include testing capacitors, checking compressor terminals, cleaning coils and filters, inspecting refrigerant levels, lubricating moving parts, and more – all designed to ensure your AC runs smoothly throughout the year. We also provide furnace tune-ups as part of our preventative maintenance program; this includes evaluation of safety controls, ignition systems, blower motors, heat exchangers and other components vital to optimal performance of your heating equipment. So if you're looking for professional assistance with maintaining or repairing your air conditioner or furnace in Orange County CA, look no further than us! Our certified technicians have the expertise needed to keep up with today's sophisticated HVAC systems – we'll make sure you get the best service available when it comes to keeping cool (or warm!). Get in touch now to schedule an appointment – let's get started on making sure your air stays perfect every day.
HVAC Installation & Heating In Westminster CA

Installing and repairing AC units in Orange County is a specialty of ours. Our team has years of experience dealing with all kinds of air conditioning systems, so whether you're looking for a new installation or repairs to an existing unit, we can help. We understand that having the right temperature inside your home is essential – not only for comfort but also for health and safety. That's why our technicians are dedicated to providing top-notch service to ensure that your AC works perfectly when you need it most. We offer competitive prices on all our services, from AC repair to heating installation. Plus, we use high quality parts and materials that meet industry standards. You can always count on us for reliable and affordable solutions tailored specifically to your needs. We take pride in exceeding customer expectations every time! No matter how big or small the job may be, rest assured knowing that we will get it done quickly and efficiently – without compromising on quality. From start to finish, our goal is always 100% customer satisfaction; we want nothing more than happy customers who trust us with their HVAC needs again and again!
AC Repair Pricing in Westminster, CA
Generally speaking, when searching for an AC repair company in Westminster you will find a range of pricing depending on the exact problem that you have. We provide the below list as a guide, based on pricing that various companies in the area have used. This is not a definitive pricing list by any means, nor is it the price list for Infinity HVAC. Each AC repair is different and will require different parts and labor costs.
Refrigerant Leak Detection & Repair: $150 – $500
AC Circuit Board Replacement: $450 – $600
Thermostat Replacement: $200 – $500
Capacitor Replacement: $225 – $325
Contactor Replacement: $150 – $350
AC Condenser Fan Motor Replacement: $450 – $550
Air Conditioning Heater FAU Motor Replacement $450 – $850
add / Recharge air conditioner, R22, 1st pound $131.36
add / Recharge air conditioner, R22, each additional $60.31
Recharge air conditioner, R410a, 1st pound $72.40
Recharge air conditioner, R410a, each additional $25.01
Condensation drain clean $95.00 – $195.00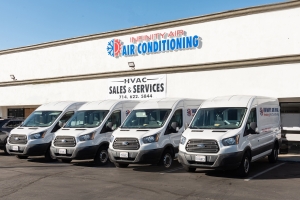 Choose Infinity Air HVAC for Reliable AC Repairs
When it comes to addressing common AC issues and providing comprehensive air conditioner repairs in Westminster, CA, Infinity Air HVAC is your go-to choice. With our team of highly skilled technicians, extensive industry experience, and commitment to customer satisfaction, we are the leaders in the HVAC repair industry.
At Infinity Air HVAC, we prioritize prompt and efficient service, employing the latest tools and techniques to diagnose and resolve AC problems accurately. We take pride in our professionalism, attention to detail, and transparent communication with our valued customers.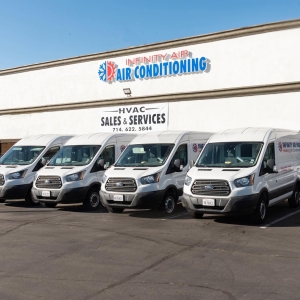 Experienced AC Repair Technicians In Westminster CA & Orange County CA

When it comes to AC repair and heating installation in Orange County, there's no one more experienced than our team of certified technicians. We pride ourselves on providing the highest quality services available – so whether you need repairs now or just want to be prepared for when something goes wrong, we're here to help! We know that dealing with an unexpected breakdown can be stressful – which is why our techs always go above and beyond to ensure your comfort. Our professionals are highly trained and have years of experience bringing customers in Orange County peace of mind by keeping their HVAC systems running smoothly. From preventative maintenance checks to emergency repairs, you can count on us to get the job done right. At our company, customer satisfaction is paramount. That's why all of our work is backed by a 100% satisfaction guarantee – if you're not completely satisfied with the outcome, we will make sure the issue is resolved quickly and efficiently until you are happy with the results. No matter what kind of service you need from us, rest assured knowing that your home or business is in reliable hands!
Common AC Issues and Their Underlying Causes
When your air conditioning system starts acting up, it can be a frustrating and uncomfortable experience. At Infinity Air HVAC, we understand the importance of a well-functioning air conditioner, especially during the scorching hot summer months in Westminster, CA. As a trusted and reputable HVAC repair company, we have encountered numerous AC issues over the years and have gained extensive knowledge and expertise in identifying and resolving these problems. Here are some common AC issues and their underlying causes that we can tackle with precision and professionalism.
Insufficient Cooling: Is your air conditioner failing to cool your home adequately? This problem can stem from various underlying causes, such as:
Refrigerant Leak: A refrigerant leak can cause a decline in cooling performance. Our experienced technicians can detect and repair leaks, ensuring that your system is properly charged and capable of delivering optimal cooling efficiency.
Clogged Air Filters: Dirty or clogged air filters restrict airflow, resulting in reduced cooling capacity. We can clean or replace your air filters, promoting better airflow and enhancing cooling performance.
Faulty Compressor: The compressor plays a crucial role in cooling your home. If it malfunctions, it can result in insufficient cooling. Our skilled technicians can diagnose compressor issues and provide appropriate repairs or replacements as needed.
Uneven Cooling: Are some rooms in your home significantly cooler or warmer than others? Uneven cooling can occur due to the following reasons:
Improperly Sized Unit: If your air conditioner is too large or too small for your space, it can result in inconsistent cooling. We can assess your cooling needs and recommend the right-sized unit for optimum comfort and efficiency.
Ductwork Issues: Damaged or poorly insulated ductwork can lead to temperature imbalances throughout your home. Our team can inspect your ductwork, identify any leaks or insulation problems, and perform necessary repairs or replacements.
Frequent Cycling On and Off: If your air conditioner frequently cycles on and off without reaching the desired temperature, it can be attributed to:
Thermostat Problems: A faulty thermostat may cause your AC to cycle improperly. Our technicians can calibrate or replace your thermostat to ensure accurate temperature control and efficient operation.
Dirty Condenser Coils: Accumulated dirt and debris on the condenser coils can hinder heat transfer, leading to frequent cycling. We can clean your coils, improving system performance and reducing energy consumption.
Low Refrigerant Levels: Inadequate refrigerant levels can disrupt the cooling cycle, causing your AC to turn on and off frequently. We can replenish refrigerant levels and check for leaks to prevent further issues.
Common Air Conditioner Problems
At Infinity Air HVAC, we have encountered and resolved numerous air conditioner problems for our satisfied customers in Westminster, CA. Here are some common issues that our skilled technicians are adept at addressing:
Strange Noises: Unusual noises coming from your air conditioner can indicate underlying problems, such as:
Squealing: This may be caused by a worn-out fan belt or motor bearings. We can replace these components to eliminate the noise and restore smooth operation.
Rattling: Loose parts or debris within the unit can lead to rattling sounds. Our technicians can inspect and secure all components, ensuring quiet and reliable operation.
Poor Airflow: Insufficient airflow can impede the cooling process and compromise comfort. Our experts can tackle the following airflow-related issues:
Blocked or Leaky Ducts: Damaged or obstructed ductwork can restrict airflow. We will meticulously inspect your ducts, sealing any leaks and clearing any obstructions to improve airflow throughout your home.
Blower Fan Problems: A malfunctioning blower fan can significantly reduce airflow. Our skilled technicians can diagnose and repair fan issues, ensuring proper circulation of cooled air.
Electrical Issues: Air conditioners rely on a complex electrical system, and problems in this area can manifest in various ways. Our technicians are well-versed in resolving electrical AC problems, including:
Faulty Wiring: Poorly installed or damaged wiring can lead to electrical issues. We can assess your system's wiring, making any necessary repairs or replacements to ensure safety and proper functioning.
Circuit Breaker Tripping: If your AC causes the circuit breaker to trip frequently, it may be due to an electrical overload. We can identify the source of the problem, whether it's a faulty component or a wiring issue, and rectify it accordingly.
Frequently Asked Questions
What Is The Average Cost Of An Ac Repair In Orange County?
When it comes to AC repair, the average cost in Orange County can vary depending on the specific issue. On average, you're likely looking at anywhere from $100-$400 for a standard service call and labor charge. Of course, if there are any additional parts or repairs needed down the line, that could add up quickly. But rest assured—we'll provide an honest assessment of what needs to be done and make sure you get high-quality work at an affordable price!
How Long Will It Take To Complete An Ac Repair Job In Orange County?
The average length of time for an AC repair job in Orange County is about 2-4 hours. It really depends on the complexity and scope of your specific issue, but our experienced technicians have a wealth of knowledge to draw from so they can work quickly and efficiently. We understand how important it is for you to get back to comfortable temperatures as soon as possible, so we strive to make sure that all repairs are completed swiftly without sacrificing quality or safety. Rest assured, if you come to us with an AC repair need in Orange County, you'll be taken care of!
Are There Any Discounts Or Specials Available For Ac Repair Services?
At our AC repair services, we're proud to offer specials and discounts for our customers. We understand that it can be expensive to fix an air conditioner, so we like to do what we can to make the process easier on your wallet. Our team is here to help you find a great deal on any repairs or maintenance needed for your home's cooling system. Reach out today and see how much you could save!
Are There Any Additional Services Offered By The AC Repair Technicians In Orange County?
At our business, we strive to provide the best AC repair services available in Orange County. We don't just stop at fixing your unit though; we also offer a variety of additional services to make sure your air conditioning is running top-notch. Our technicians are trained professionals with extensive experience and have the knowledge needed to diagnose any potential problems you may be having. From general maintenance to cleaning and replacing parts, no job is too big or small for us! All of these services come with guarantees so that you can rest assured knowing that your investment will be well taken care of.
Is There An Emergency Service Available For AC Repair In Orange County?
Yes, there is an emergency service available! We understand that when your air conditioning breaks down you need it fixed fast. That's why our team of AC repair technicians in Orange County work around the clock to ensure we can help you out no matter what time of day or night it may be. Our certified technicians are here to diagnose and fix the issue as quickly as possible so that you don't have to suffer without cool air any longer than necessary. So don't hesitate; if you're looking for reliable AC repair services in Orange County, give us a call today!